Our History
The Andriaccio family has its roots in the mountain village of San Fele, a rural area of the Potenza Province and Basilicata region. Vito Andriaccio immigrated in the 1870s from San Fele to the Myrtle Neighborhood of Buffalo with his wife and nine children. Antoinette migrated to Buffalo at the age of two with her parents and sister from the village of Collepietro in the Abruzzi region of Italy.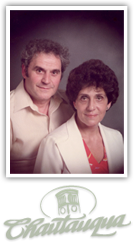 Andriaccio's Restaurant has been serving the community and the many visitors that come to Chautauqua since 1982. The founders, Guy and Antoinette Andriaccio, along with their five children moved to Chautauqua in the late 70's, from Buffalo where Guy had owned a restaurant on Chippewa Street. They bought an old gas station on the corners of Rt. 394 and 33 across from Chautauqua Institution and opened their doors in February of 1982.
Over the 35 years in business, the restaurant has seen founders, Guy and Toni and their family help out in one way or another. A tradition continues today, as Nick and his wife Sally and their four children, maintain the Andriaccio name, quality and pride, still providing exceptional cuisine and service that made them so successful. We still use Grandmas old world recipes for our homemade dough and sauces, stirred with the "age old" large wooden spoon. We keep up with the ever changing food trends, and offer healthier choices along with gluten free options as well. We pride ourselves on offering local produce in season, growing our own fresh organic herbs.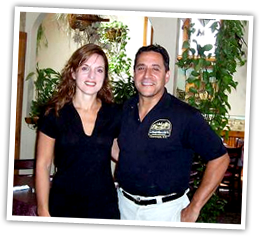 Walk into Andriaccio's and what's most apparent, besides the sweet aromas of homemade dough and fresh tomato sauce, is the wealth of family and community memorabilia hanging in the enteryway: awards, newspaper clippings, family events, photos, reminders to the heart of Andriaccio's livelihood. And proving that family commitment can indeed endure in the face of progress, Nick and Sally's children - Amanda, Jacob, Justin and Abigail can be seen helping out on any night, finding their spirit in something unique .
Our Commitment to Excellence...
As a Chef owned and operated restaurant, your enjoyment is certainly a matter of pride for us. We are committed to providing you with the very best in service and dining. As in any trade, excellence in dining is a journey that is enhanced over many years of passion and creativity in the culinary arts. Great food takes time and passion to prepare, and as such, all our food is prepared to order with the freshest and highest quality ingredients. We thank you, our customers, for your patronage and genuinely hope that you enjoy your dining experience with us as much as we have enjoyed sharing our love and passion for Great Italian Food!